This project was hatched after looking at Rike's puppets on-line one morning. She has a category called "pimped", derogatory slang for all decked out, having excessive embellishments, flashy, tricked out, etc. I see push puppets on eBay go begging for a new home because they have been broken or are dirty and tired and are no longer even close to what we want in our collections. I worry that they will get thrown away when they do not sell, especially the Happy Dogs. In the past, if the price was not too outrageous, I sometimes bought them just so they wouldn't get tossed away. Now-a-days my dog pound is pretty full. This dog was quite sad looking and he was $4.79 with the shipping. I thought he surely would have been thrown away and the price was right. After the purchase I found out he was an well-loved toy from the seller's childhood. I am so pleased to have been able to renew this toy. He became my bling project. I turned Mr. Barking Happy Dog into Ms. Bling Happy Dog. Here is what happened....
Original eBay auction photo on the left, missing one ear.
He lost his other ear on the trip to Washington. I cleaned him up as I do with all my puppets and let him sit on the kitchen counter for a few days. Did I really want to tear him apart? His strings were pretty frayed and having him apart would make working on him easy. He was in sad condition. Yes. I cut him apart, apologizing the entire time!
The base is only slightly warped but very faded. To the store for spray paint which will stick to plastic. I did not worry about the label. In the end, it is still slightly visible.



His head was very worn. It would need new paint, too.
To the left you can see the button. Tiny staples hold the strings in place and tight. Bob will lift them, remove the old string and use Spectra to put him back together, tying it to the staples.
No one will ever call me artistic with good reason. What do I do to Happy to "bling" him? I used the computer and some photo software. The paint bucket tool worked to change colors. Voila! I had something to work towards.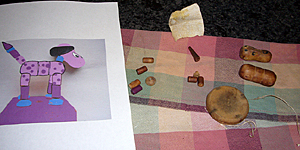 I sanded the parts and tried out some purple paint on one leg piece. OK, this is going to work!
In this photo I have the parts cleaned, sanded, painted, and waxed. Even a nice new face! The base is painted purple.
Bob repaired the squeeker, made a new neck piece and put
him
I mean HER back together for me. Next came the purple dots on her pink parts. Purple leather ears and a tiny collar (or necklace if you ask Ms. Bling Happy Dog) completed the new look. Not nearly the sparkles and rhinestones and wild paint I might have originally imagined but she stands out in my dog pound anyway!
Before and after