2014: More road trips including one long trip to the Midwest. We saw bison, archeological digs for dinosaurs, caves, hiked in the Badlands and returned to Callaway, Nebraska for the Kite Fight Festival.
2013: Bob retired! Road trips, kites, relaxing. We definitely recommend our new lifestyle. Jimmy Pentagon finally made his appearance at
our house, the Uhl project happened, more cotton kites and a new Mezger for us with my Chinese Zodiac symbol, the snake.
2012: Hip Pocket Hybrids were the kite of the year. A very nice kite for children. This project can be found here.
2011: We made several classic kites this year including the Russian Prachov kite from 1909. The year flew by with few new kites; a good year anyway!
2010: is seeing a new pear top project. We had to change our Ft. Worden class offering
. Hmmm. I suggested we offer a class to teach appliqué and Bob thought a small pear top might work. It flies well, simple to make, easy to assemble, allows for appliqué instruction and practice. We are using Jean-Pierre Ollive's wonderful method for making a good tail for them. Yes, we think it will be a winner for 2011. Seven versions will be offered from simple to more complex. Pictured to the right are three of the versions...
We have also been working on a very interesting project with the J.R. Edmunds kite. It was made in Wray, Colorado during the 1940's. We have built our replica, done lots of research and I will be working on a page devoted to this project.
2009: did not start out with kite flying. EEK! Our traditional New Year's Day fly at Golden Gardens Park in Seattle was rained out for us. Bob's Christmas kite, a soft kite this time, has not flown yet. And it is March 1st today. Will our weather ever be nice on the weekend with the wind blowing from the ocean?
And to answer that
question, we did finally get to go flying. We found a little park in Tacoma which was nice for trying our Ft. Worden creations. Mid-April we escaped to the coast and pretended we had enough wind to fly. My Korean Wave train was beautiful and Bob's swan was the champ of the day. But happiest of all was our being able to fly the new Pear Top. Look in "Our Kites 2009" for photos. The train is back in the 2008 gallery. We still have unflown kites but they needed that elusive 1 MPH more wind.
We have gotten several inquiries about the Pear Top kite we made in 2006. I took photos to answer one question and decided to give our Pear Tops their own page. If my new page doesn't solve all the mysteries, questions are always welcome.
2008:
First kite event is of course the New Year's Day fly at Golden Gardens Park in Seattle. The day was completely without wind. A couple of folks dragged their kites through the sky as they walked the length of the park. Glenda blew bubbles which DID NOT blow away, just fell to the ground in a pile. Bob and I chatted with friends, drank coffee, and stamped our feet to keep warm. We took Flat Stanley.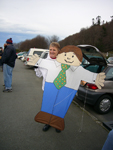 Bob opened up the Christmas kite Christmas morning and designed the complicated sticks. We had high hopes of having him in the air. Not to be. But you can see him posed with Marla Miller. If our weather ever decides to give us a nice Saturday, Flat Stanley will be headed to the Washington coast. Ken Conrad posed with his stunning rokkaku with it's printed skin. Amazing and beautiful. I am in Ken's Ft. Worden class, looking forward to my own design printed on ripstop. The kite will be a Ohashi variant.
We did teach at Ft. Worden. Hopefully there will be a few new Arno Haft replica birds in the air this summer. Make your own bird with our plan and instructions found on the Hints, Tricks, Plans page.
I have added a new hint on our Hints, Tricks, Plans page. Cutting fuzzy tails is a pain at best; read about my methods for fewer cramping hands and shortening the time cutting takes.
Our trip to Fanĝ, Denmark is all arranged. And a few of new kites in the making include a train, an arch, and a cody. More house remodeling has been accomplished with more planned. We will fly to Florida for my son's wedding and then continue on to Belize for sun, warmth, sea breezes and snorkeling. Plenty to keep us out of trouble!